Altered Reality Challenge: Phyrexian!
Welcome to the inaugural "Altered Reality Challenge"!
Every month, GatheringMagic.com will sponsor a card-altering contest. The contest will vary from month to month as we will provide a new and different challenge or prompt for the contest.
Rules for Entry
You must physically alter a card. You may decide how to do the alter and in what sort of medium, but no digital alterations will be accepted.
Your entry must be your own. No entering on behalf of others.
You must send clear photos of your alter. Preferably multiples including detail shots. Scanning tends to work best.
Your alter must follow the challenge set forth.
Each submission must be in our e-mail inbox by the announced deadline to qualify.
You may only enter once.
Have fun!
Winners
Judged Winner – There will be a three-person rotating judging committee, which will judge entries and pick their favorite. They will judge on the following points, scoring each from 1 to 10:
Artistic merit
Quality of work
Originality
Innovation
Popular Vote – When all the entries are posted, we will open up voting to the general public and determine a secondary winner.
Prize
The judged winner will receive a $25 gift certificate to CoolStuffInc.com, the popular vote winner will receive a $15 gift certificate, and the popular vote runner-up will receive a $10 gift certificate to CoolStuffInc.com. Yes, the same person can win both the judging and the popular vote.
Aside from the prizes, here are other reasons to enter:
As many card-altering artists sell their work, we will happily link to an eBay auction (for the card) when we post the cards.
We will also be more than happy to link to your site or provide contact information.
Something different – Rather than doing your forty-seventh full-art alteration of the same depiction, working outside your normal repertoire can improve your artistic skill.
Respect from your peers.
Challenge #1 – Phyrexian
When Wizards of the Coast revealed New Phyrexia, they did so along with an image of Elesh Norn, Grand Cenobite in the form of Phyrexian. It seems a shame that it is the only card ever shown in Phyrexian script. Your challenge is to pick another card, Scars Block or other, and make a Phyrexian version of it.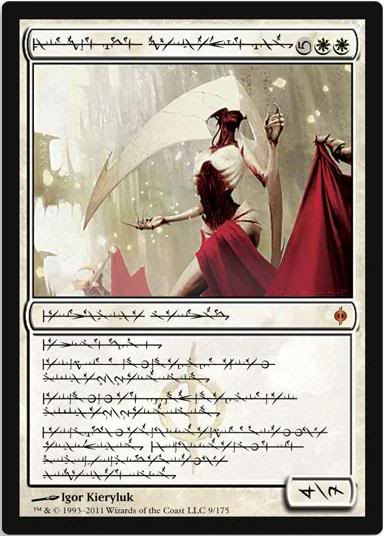 Entering
Your entry must be e-mailed to alters@gatheringmagic.com with the subject line "ARC #1" and have the images attached. Along with the images, your e-mail should contain the following info: Name, E-mail address, Twitter (if applicable), Alter title, Links
Deadline for entries: Monday, June 27, 2011 11:59:59 p.m. EST
Entries posted: Wednesday, June 29, 2011 (voting opens)
Voting Closes: Monday, July 4, 2011 11:59:59 p.m. EST
Winners Announced: Wednesday, July 6, 2011
Comments
comments