Born of the Gods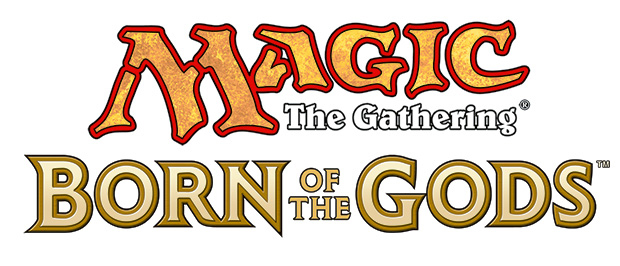 What will the second set of Theros block bring? Born of the Gods is coming in Spring 2014.
Set Name
Born of the Gods
Block
Set 2 of 3 in the Theros block
Number of Cards
165
Prerelease Events
February 1-2, 2014
Release Date
February 7, 2014
Launch Weekend
February 7-9, 2014
Game Day
March 1, 2014
Magic Online Prerelease Events
February 14-17, 2014
Magic Online Release Date
February 17, 2014
Magic Online Release Events
February 17-23, 2014
Pro Tour Born of the Gods
February 21-23, 2014
Pro Tour Born of the Gods Location
Valencia, Spain
Pro Tour Born of the Gods Formats
Swiss:

Modern Constructed
Born of the Gods / Theros / Theros Draft

Top 8:

Official Three-Letter Code
BNG
Twitter Hashtag
#MTGBNG
Initial Concept and Game Design
Ken Nagle (lead)
Ethan Fleischer
Billy Moreno
Mark Rosewater
Ryan Spain
Final Game Design and Development
Tom LaPille (lead)
Chris Dupuis
Mark Gottlieb
David Humpherys
Billy Moreno
with contributions from Matt Tabak
Languages
English, Chinese Simplified, Chinese Traditional, French, German, Italian, Japanese, Korean, Portuguese, Russian, Spanish
Be sure to keep up with the latest on our Born of the Gods text spoiler, or our handy visual gallery on Facebook.
---

Comments
comments