Gatecrash Mechanics Overview
Over this past week, Wizards has revealed a set of holiday Gatecrash previews that revealed the guild mechanics. Just like before, each guild features a unique mechanic that fits differently into Magic.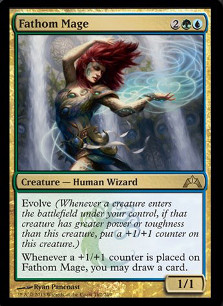 The first card spoiled this week was Fathom Mage featuring the Simic mechanic, evolve.
Evolve (Whenever a creature enters the battlefield under your control, if that creature has greater power or toughness than this creature, put a +1/+1 counter on this creature.)
Evolve seems like an incredible Limited mechanic for decks with a strong curve of creatures. Any deck that can curve out with reasonably-sized evolve creatures backed by tricks and tempo plays should be very tough to top. Evolve also plays very well with evasion, so keep an eye out for trample and flying.
For Constructed action, Fathom Mage may be a role player. Azure Mage saw plenty of play, and Fathom Mage does something similar. Restoration Angel can reset your Fathom Mages, so you can draw cards off of Snapcaster Mage. It even even plays well with Morningtide lords like Sage of Fables!
For a peek at how degenerate Fathom Mage may be check out Andrew Wilson's take at abusing it earlier this week.
---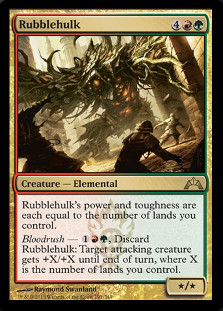 Rubblehulk was Tuesday's preview card. and it featured the Gruul mechanic, bloodrush.
(As it appears on
Rubblehulk
)
Bloodrush
–



, Discard Rubblehulk: Target attacking creature gets +X/+X until end of turn, where X is the number of lands you control.
This mechanic is awesome because of the flexibility it gives to these colors. If you need a fatty like Rubblehulk then you've got one; If not you have a pump spell that scales just the same over the course of a game.
What's interesting about bloodrush are the questions yet to be answered. Is this an instant-speed version of channel, a similar ability word from Saviors of Kamigawa? Are they all pump spells based on the number of lands you control (with maximum synergy with the Borborygmos spoiled last month)? Regardless of the finer details, it's exciting that Gruul gets an effectively uncounterable, instant-speed effect for creatures. This means Gruul will be getting aggressive with beefy guys, and have access to plenty of tricks to make sure their creatures dominate the battlefield.
Compared for Constructed, Rubblehulk is reminiscent of Kessig Wolf Run except that it doubles as a giant creature rather than a land and isn't a visible, on-board trick. Rubblehulk has an obvious use in Commander, where it will surprise people with lethal general damage or provide a giant board presence and a quick clock.
I really can't wait to say "Fuck you." and bloodrush my Rubblehulk to Commander damage someone out of the game. #MTG

— Adam Styborski (@the_stybs) December 25, 2012
---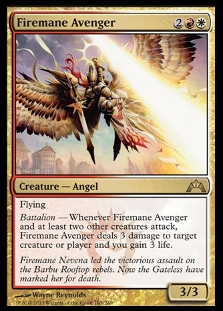 On Wednesday we received Firemane Avenger to get a look at the Boros mechanic, battalion.
(As it appears on
Firemane Avenger
)
Battalion
–Whenever Firemane Avenger and at least two other creatures attack, Firemane Avenger deals 3 damage to target creature or player and you gain 3 life.
This is another aggressive mechanic that will add tension to Limited games. Curving out into battalion creatures on turn 4 or 5 forces your opponent to have removal immediately or take a big hit. If we see good battalion creatures at common and uncommon we could be looking at a very quick Limited format, similar to the role Rakdos played in Return to Ravnica.
Battalion shows some promise in Constructed too. The ability to generate free spells is always powerful when it's removal like the [cardLightning Helix[/card] stapled to Firemane Avenger, clearing the way for your attackers and swinging the race in your favor. Battalion also plays well with Lingering Souls and Midnight Haunting, haste creatures like Hellrider, and haste enablers like Slayers' Stronghold.
If that's not enough battalion action for you, imagine it in conjunction with Godo, Bandit Warlord or the Boros guild leader in Gatecrash, Aurelia, the Warleader. Multiple combat steps means multiple free spells to crush your opponent with.
Finally, battalion doesn't look for attacking creatures you control, just for all attacking creatures. You should keep that in mind when you play Archenemy or Two-Headed Giant.
---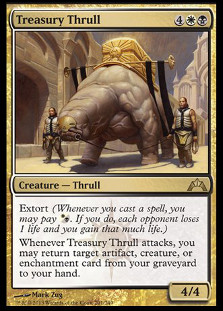 The Orzhov mechanic revealed Thursday, extort, is subtle and effective for grinding opponents out.
Extort
(Whenever you cast a spell, you may pay

. If you do, each opponent loses 1 life and you gain that much life.)
In Limited this should a great way to either gain the extra life you need to survive some of the aggressive starts other guilds, or to sneak in the last few points of damage you need to close the game out.
The general power of this mechanic will depend on the availability of cheap cards with extort, as well as the number of spells you can chain together to maximize the triggers. Treasury Thrull, for example, provides its own fuel for additional extort triggers by getting back creatures (or artifacts or enchantments) you've already traded off.
In Constructed we've already seen cards like Blood Artist, so we know that draining effects that trigger often can be superstars. With Lingering Souls being on color there's no question that extort can be triggered consistently. Maybe someone will break extort with Isochron Scepter or the Dimir mechanic, cipher? (See below!)
With Treasury Thrull, extort is all upside. Sun Titan was very good in Standard, and is still awesome in Commander. Now you can regrow Thragtusk, Mana Reflection, or Akroma's Memorial for a similar investment.
---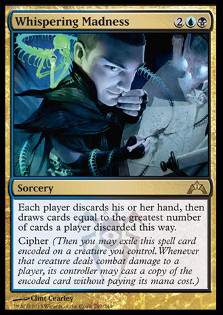 On Friday we got the Dimir mechanic, cipher.
Cipher (Then you may exile this spell card encoded on a creature you control. Whenever that creature deals combat damage to a player, its controller may cast a copy of the encoded card without paying its mana cost.)
The flavor here is pretty awesome: You surprise them with the first spell, but then your agent has to sneak past their defenses for further sabotage. It's reminiscent of the Flight of Fancy cycle of Auras from the original Ravnica: City of Guilds, where you got something upfront when you cast the spell but you have an ongoing upside for one of your creatures.
Repeatable spells are powerful, and generally worth jumping through hoops for. Whispering Madness may not be insane in Limited, since you'll rarely want to give your opponents access to more of his or her deck, but imagine how powerful a bounce (Unsummon) or pure card draw (Divination) spell could be? With evasion or hexproof, or both with Invisible Stalker, this mechanic could lead to some very powerful Constructed decks.
Looking towards Commander, cipher (and more generally Whispering Madness itself) seems custom made for Wrexial, the Risen Deep. Wrexial has evasion, connects to cast a free spell from an opponent's graveyard, and then would cast the encoded Whispering Madness to restock choices for the next combat.
---
It looked like Return to Ravnica was going to be hard to top, but so far Gatecrash is packed with even more powerful cards and interesting, flavorful mechanics. What does the rest of the set have to offer? Keep your eye on our Gatecrash text spoiler, or one of the visual spoilers on Facebook or Google+ to find out!
Update: The official mechanics article is out, so see exactly how each guild is going to work!