Who to Follow – Pro Tour Dragon's Maze
Why isn't Rob Castellon on Twitter?
When Melissa DeTora managed to 8–0 Day 1 of Pro Tour Gatecrash after qualifying for the event by receiving what many classified as a "pity invite," she silenced critics, inspired the next generation of gamers (male and female alike), and got people watching coverage. Her 8–0 was enough of an impetus in and of itself for watching Pro Tour coverage, so I think a lot of people expected it to take more than one PT event for another, similarly inspirational story to come along.
Where Melissa DeTora is a grinder who very nearly qualified for the PT on her own, Rob Castellon is not. Rob is a judge who only played in the Pro Tour Qualifier he won because he forgot to confirm the e-mail indicating his intention to work said PTQ as a judge. He claims he threw together W/U because that was the deck he had the cards for—not the most auspicious beginning to a Cinderella story.
When Rob went an astonishing 8–0 Day 1, a lot of people became excited. While it shouldn't be too surprising that a judge, whose job it is to know rules and interactions inside and out, is a competent player, anyone going 8–0 is quite a feat, let alone for a relative unknown. Immediately, Twitter honored his meteoric rise to 24 points with a brand new hash tag: #Robcastellonfacts.
Rob Castellon once ate an entire Jund deck because the sleeves were marked. #robcastellonfacts #ptdgm

— Casey Brefka (@caseybrefka) May 18, 2013
"You have the right to appeal the judge's ruling to the head judge, unless the floor judge was Rob Castellon." #robcastellonfacts #ptdgm

— Chris Lansdell (@lansdellicious) May 18, 2013
Rob Castellon died so that your missed triggers may be forgiven. #PTDGM #RobCastellonFacts

— Jeff Phillips (@Teflon_Jeff) May 18, 2013
I'm not sure whether Rob is aware of the meme he's inspired. Rob Castellon is not on Twitter.
Fortunately for all of us, the Top 8 of the Pro Tour was stacked. Check out the list here. The event was won by Craig Wescoe, profiled here. Joining Craig and Rob in the Top 8 were Japanese Gold-level player Makihito Mihara, Legit's own "Johnny Hotsauce," Gold-level grinder Andrejs Prost from Latvia, and some other names you should know.
Josh Utter-Leyton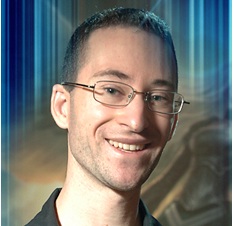 Where You Know Him From: Team ChannelFireball
Current Title: Software Engineer, Magic Pro
Social Media:
Twitter
Google+
ChannelFireball Archives
PTDGM Deck Tech and Interview
@lansdellicious there is no such thing as competing with Rob Castellon #robcastellonfacts

— Josh Utter-Leyton (@wrapter) May 19, 2013
Josh Utter-Leyton is not only fun to watch, he kept me thoroughly entertained on Twitter throughout the weekend. Not only did he participate in the #Robcastellonfacts fun, he gave some pretty frank—if not grim—pronouncements about his chances in the Top 8.
This quarterfinal between Prost and Wescoe is a huge sweat for me, don't think I can possibly win against Wescoe

— Josh Utter-Leyton (@wrapter) May 19, 2013
He was as gracious in post-defeat as he was in pre-defeat:
Well that went about as expected. Thought he was a small favorite if he mulled to 5 every game but instead it was me mulling. #PTDGM

— Josh Utter-Leyton (@wrapter) May 19, 2013
Josh is someone who has great insights about both Constructed and Limited and who tweets frequent updates during events, and I recommend him as a follow.
As always, I can't recommend highly enough reading through some of the archived material from ChannelFireball I've linked above. It's all incredibly informative, and Josh goes a little bit deeper into his thought process than most content creators, which I find helpful. A little insight into one of the best minds in the game right now is difficult to put a monetary value on, but "free" has to be a good deal.
Matej Zatlkaj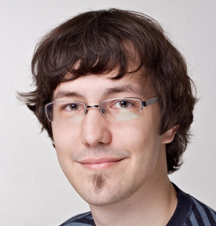 Where You Know Him From: His 98 lifetime Pro Points—I'd hope
Current Title: Marketing Specialist
Social Media:
Twitter
ChannelFireball Archives
PTDGM Deck Tech
A native of Slovakia living in Bratislava, Matej Zatlkaj is so close to the 100 Pro Points usually required for Hall of Fame consideration he can taste it. The 2003 Slovakian National Champion, Zatlkaj has been a fixture in the Slovakian Magic community for about as long as there's been one. Doing most of his testing with Slovakian pro (and 2005/2012 National Champion) Robert Jurkovic, Matej was prepared for the event. Opting to play an Esper control build, he showed his versatility playing a deck that is quite the departure from the Elf combo deck that brought him international renown (and nearly a first-place finish at Pro Tour Berlin).
As apparent as his accent is when you hear him talk (check the deck tech video above if you haven't yet), Matej tweets primarily in English, which is good news to those of us whose Slovak is a little rusty. Speaking of tweeting, either Matej has discovered a new form of sarcasm that hasn't caught on in the West or he is legitimately one of the most cheerful players ever. I get the impression he genuinely loves playing this game.
Anyone in San Diego for some drafts today? There's 5 of us, need 3 more :)

— Matej Zatlkaj (@Big_Z_MTG) May 12, 2013
In the feature match area! Its been a while!

— Matej Zatlkaj (@Big_Z_MTG) May 17, 2013
European readers may be familiar with Matej from his work of coverage for European Grands Prix. Matej is someone I fully expect to be inducted into the Magic Hall of Fame some day; he's a good player with a keen eye for interactions, and he's a good follow. I can't recommend him highly enough.
Dusty Ochoa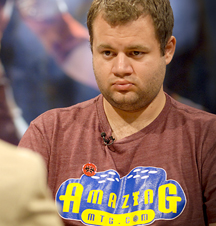 Where You Know Him From: Confusing him with David Ochoa
Current Title: Owner of Amazing Discoveries and AmazingMTG.com
Social Media:
Twitter
Amazing MTG
There isn't a ton of information about Dusty Ochoa, a somewhat enigmatic player who is so commonly mistaken for David Ochoa that even the Wizards Event Coverage team made the mistake here and still hasn't fixed it.
So happy for dusty ochoa on his pt t8. He is an insanely good player that doesnt get recognition because he rarely leaves his store in az

— Adam Prosak (@Adam_Prosak) May 19, 2013
That is high praise coming from Adam Prosak. But Prosak isn't the only one with Ochoanecdotes.
Dusty Ochoa was at one of the first local events I ever played. Crazy to see he's in the PT finals now. Long time coming.#ptdgm

— Gavin Verhey (@GavinVerhey) May 19, 2013
In a PTQ years ago, I looked at pairings, saw "Ochoa, D..." and instinctively found Dusty. Turns out I was actually up against David. #ptdgm

— Gavin Verhey (@GavinVerhey) May 19, 2013
If Gavin was relieved to not have to play against David, I'm sure the relief was short-lived. By all accounts, Dusty more than belonged in the finals against Craig Wescoe. Here's the astonishing thing: Ochoa did very little testing for the event he qualified for by winning a PTQ. By his own admission, "I played in two Block Constructed events and three Booster Drafts" to prepare for the event. To make it to the final showdown against Wescoe, Dusty had a rough road to the finals having to go first through Rob Castellon then Makihito Mihara. Not too shabby for a guy who didn't do much testing.
I think Ochoa is a player to watch for sure. I wouldn't be at all surprised if we see a lot more of him in the future given how easily he managed Top 8, including a perfect 6–0 in the Draft portions. Dusty said he was playing for exposure for his store and website, and I think we can all agree he got it.
As for his winnings, a cool $20,000 for second place? He plans to pay it forward.
Thank you everyone for the support this past weekend. I want to give back to my store and community since wizards... fb.me/xCCuKs3y

— Amazing Discoveries (@amazingmtg) May 20, 2013
Not a bad weekend by all accounts.

Comments
comments