Journey into Nyx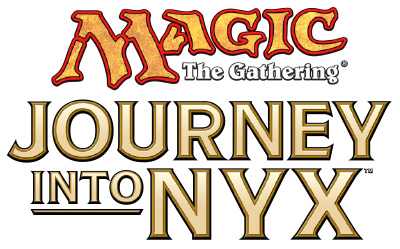 Our journey on Theros ends in Nyx. Will Xenagos, the Reveler truly usurp the might of the gods?
Set Name
Journey into Nyx
Block
Set 3 of 3 in the Theros block
Number of Cards
165
Prerelease Events
April 26-27, 2014
Release Date
May 2, 2014
Launch Weekend
May 2-4, 2014
Game Day
May 24-25, 2014
Magic Online Prerelease Events
May 9-12, 2014
Magic Online Release Date
May 12, 2014
Magic Online Release Events
May 12-28, 2014
Pro Tour Journey into Nyx
May 16-18, 2014
Pro Tour Journey into Nyx Location
Atlanta, Georgia, USA
Pro Tour Journey into Nyx Formats
Swiss:

Theros Block Constructed
Journey into Nyx / Born of the Gods / Theros Draft

Top 8:

Official Three-Letter Code
JOU
Twitter Hashtag
#MTGJOU
Initial Concept and Game Design
Ethan Fleischer (lead)
Dan Emmons
Erik Lauer
Mark Rosewater
Matt Tabak
Final Game Design and Development
Dave Humpherys (lead)
Ian Duke
Tom Jenkot
Erik Lauer
Ken Nagle
For more information check out the official Journey into Nyx announcement on DailyMTG.
---

Comments
comments