Magic Online Update
Chris Kiritz, business manager for Magic Online, shared several important updates for the digital platform. The first was adding the MOCS Championship contenders to the invite list for Pro Tour Dragon's Maze.
With the separation of the Magic Online Championship from a paper event, we know that some players were disappointed that qualifying for the MOCS Championship did not include an invitation to a Pro Tour event. We have decided that the best Magic Online players should have a chance to test their skills against the world's best paper players, so we have decided to invite all sixteen 2012 Magic Online Championship finalists to compete at Pro Tour Dragon's Maze in San Diego on May 17–19 or Pro Tour "Friends" in Dublin on October 11–13.

Going forward, all future Magic Online Championship finalists will receive an invitation to a Magic Pro Tour based on the qualifier season in which MOCS Season Finals was held. For instance, the 2013 MOCS Season 1 and 2 Finals occurred during the Pro Tour Dragon's Maze qualifier season, so the winners will receive invitations to Pro Tour Dragon's Maze.
Perhaps more relevant to all players is the addition of Grand Prix Trials to Magic Online. If you can't make it to a local Trial, you have a new option to consider.
With Grand Prix excitement at an all-time high, this is a great time to explore Grand Prix Trials on Magic Online.

On April 6, Magic Online will host a trial for Grand Prix Portland, which takes place May 10–12. The Magic Online Trial will be a Top 8 Premier Event for players who want a chance to earn byes for Grand Prix Portland but are unable to attend a local Grand Prix Trial.

If the Magic Online Trial for Grand Prix Portland is successful, we will explore opportunities to host additional trials in the future.
The most exciting change announced is one that's been requested forever: promotional codes that can be entered for products online.
We are pleased to announce that on March 13 we will be launching the Magic Online Promotional Code program. This program will provide new ways to unite paper and digital Magic experiences and give us another way we can reward our player for a variety of different brand interactions.

While we will be rolling out the Promotional Code program slowly; eventually, we will be able to offer our players many different ways to earn promo codes for digital objects in Magic Online, whether by purchasing specific products, attending events and conventions, or even just interacting with us through social media.

Players will be able to redeem any promo codes they have earned by going to the Magic Online Store, entering the code in the Promo Code field, and clicking Submit. Please note, however, that the promo code entry will only be available in the Wide Beta version of Magic Online, which you can download now.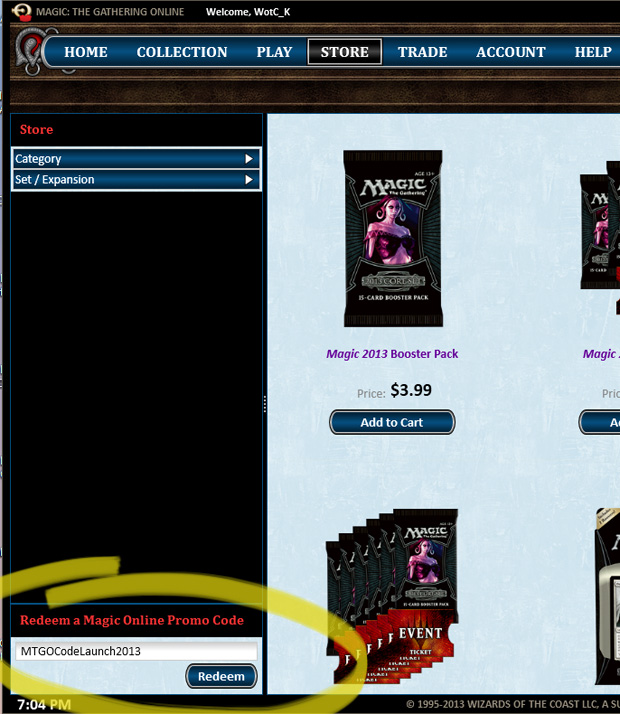 Other client tweaks were announced as well, including raising the trade limit to 400 items at once. For all the details, as well as the first Magic Online promotional code you can use for a special copy of Avacyn's Pilgrim, check out Chris's complete Magic Online announcement.
Comments
comments