Magic 2013 Spoilers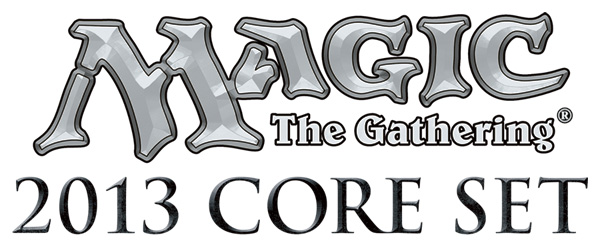 The next iteration of the core set will be released July 13, 2012. The announcement was accompanied by a silver logo, rather than the normal orange "Magic: The Gathering" text. Could this be related to 2013 being the game's 20th year in existence?
Set Name
Magic 2013
Three-Letter Abbreviation
M13
Twitter Hashtag
#MTGM13
Number of Cards
249
Release Date
July 13, 2012
Launch Weekend
July 13-15, 2012
Prerelease Events
July 7-8, 2012
Release Date
July 13, 2012
Game Day
August 4-5, 2012
Design Team
Doug Beyer (lead)
Aaron Forsythe
Graeme Hopkins
Ryan Miller
Mark Purvis
Development Team
Zac Hill (lead)
Ethan Fleischer
Mark L. Gottlieb
Tom LaPille
Max McCall
Ryan Miller
You'll be able to 'face a greater challenge' on July 13! And if you want to see all the action instead, check out our visual spoiler on Facebook!

The official announcement can be found here.
---