Magic: The Gathering Toolbox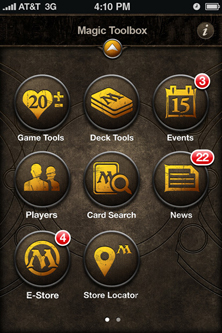 Wizards releases an official Magic app!
Wizards has announced the first official smartphone (at least iOS and Android) app: Magic: The Gathering Toolbox! It will come with a few handy features:
Life Tracker
Card Search and Deck Builder
Strategy and DailyMTG.com Content
Event and Store Locator
When will this be available? According to the full announcement:
The Magic: The Gathering Toolbox app will come out for iOS devices later this month, and a bit after that on Android. Keep watching the skies! Or, if that seems impractical, watch@wizards_magic on Twitter and like Magic: The Gathering on Facebook!
Comments
comments