Mono-Blue Control: The Renaissance
Blue's dominance over Magic the Gathering's metagame tends to ebb and flow like the tides of Tolaria.  Wizards has struggled to keep blue a flavorful, fun and relevant color whilst preventing a total cerulean lockdown of Standard.  This is difficult, if not impossible, to adhere to with the never-ending releases of new cards.  There is a very thin line between blue magic utterly dominating all formats and blue feeling like a gimped color, only worthy of a splashable Jace, the Mind Sculptor once in a while.  Since the decline of Fae in the Lorwyn block, blue Wizards have been complaining about a lack of viable counters, bounces and draw cards.  It is debatable whether or not these complaints were valid, but lately blue wizards have been getting their way with both Treasure Hunt and Deprive in the Zendikar block as well as Mana Leak and Aether Adept in M11.  Are these additions enough for blue to stand on it's own as the rightful master of control decks everywhere?  Or are these "bones" we've been "thrown" still not enough to get a real, mono-blue deck off the ground.  I've taken it upon myself to find out.

Many of you will take one look at this decklist and think to yourself - why not just play Blue/White control like everybody else?  To which I would reply - "because blue/white control isn't a 'blue deck'".   If I were just going to post a generic U/W control build, this wouldn't be much of an article.  I am attempting to explore the possibility of a mono-blue control deck in Standard again.  Even Fae wasn't truly a mono-blue fare with Bitterblossom and Thoughtseize heavily involved, and even Firespout making an appearance.  No, I'm not talking about splashing a few of the best blue cards into Jund or White Control this time around.  The following is a real, honest-to-goodness blue deck with (hopefully) the flavor and feel of an old-school, mono-blue control deck from way-back!  Take a look at what I'm dubbing: "Mono-Blue Renaissance"
[deck title=Mono-Blue Renaissance]
[Land]
*20 Island
*2 Halimar Depths
*1 Reliquary Tower
[/Land]
[Creatures]
*4 Aether Adept
*2 Sphinx of Jwar Isle
*2 Lighthouse Chronologist
*2 Clone
[/Creatures]
[Other Spells]
*4 Mana Leak
*4 Deprive
*3 Treasure Hunt
*2 Into the Roil
*2 Spreading Seas
*2 Temple Bell
*4 Jace, the Mind Sculptor
*2 Leyline of Anticipation
*2 Time Warp
*2 Mind Spring
[/Other Spells]
[Sideboard]
*2 Redirect
*2 Spreading Seas
*4 FlashFreeze
*1 Mind Control
*2 Leyline of Anticipation
*4 Cancel
[/Sideboard]
[/deck]
It would take too much time to explain how to fully master a control and lock-down deck within the limitations of this article, but let me just go over the basics for a moment.  The idea here is to make sure that your opponent is only able to play the spells you're willing to let them play.  You're armed with 8 - two- CMC counterspells, 10 bounces and a ton of card advantage.  You want to make sure you're saving mana for counters on your opponent's turns.  If it's early, you might be able to get away with putting out Jace on turn four and letting them have a free turn.  But that's a risk you're going to have to assess yourself given your opponent's deck.  On the whole, you're going to want to play your spells during  your opponent's turn.
And that's where Leyline of Anticipation comes in.  Tired of "saving mana" just to have your opponent do nothing on their turn?  With the Leyline on the Battlefield you're able to cast any card in your hand as an instant at the end of your opponent's turns.  Bounce a permanent you don't like, throw out Jace, the Mind Sculptor or even just draw a few cards at instant speed all during your opponent's turn! Heck, even Temple Bell looks a lot cooler when it's cast at the end step before your turn.

If you aren't able to get or keep the Leyline on the battlefield, you're still armed with a veritable pantheon of defensive spells.  Counter what you can/need to, Clone or bounce anything that makes it onto their play mat and use cards like Spreading Seas and properly timed Time Warps to keep them off balance.
The Lighthouse Chronologist is a great way to use your extra mana each turn.  Throw him out there ASAP for two measly mana and just level him up when you don't need the mana.  If you get them to waste a card or two trying to get rid of him, he's done his job.  You'll probably never get his final ability off the ground but the threat is at a "you win the game" level, so they'll have to get rid of him eventually.  Until then, block a three toughness creature every once in a while and/or use him to chump a guy you weren't able to counter/bounce.
The sideboard includes some basics that you may need to tweak with.  If they're playing red and green you can certainly splash FlashFreeze in place of Deprive.  Redirect is a great Anti-Blightning card but also works well with Eldrazi Conscription and any other spell with a target that you might want to change.  I didn't include it main-deck because Shunt and other target re-directors have been dead in my hand one too many times.  But if the situation calls for it, there's nothing better than shoving a direct damage spell back in a red wizard's angry face.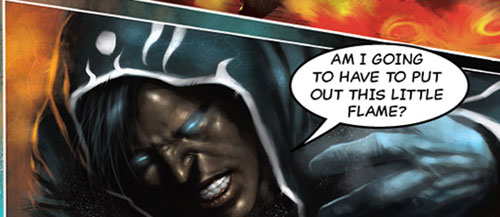 For use after the Fall rotation, I tried to keep the deck as legal as possible.  There are a couple of cards here that are in M10 but aren't in M11 (Mind Spring and Time Warp, both of which will be presumably be replaceable with the addition of Scars of Mirrodin).  In fact, the entire game could change this fall and blue could tip the scales even more or the dream of a viable mono-blue deck could be wiped out entirely.  Either way I hope you enjoy yourself while using this deck to lock-down your buddies, FNM competitors or Pro-Rivals.

I encourage you to add comments to this article with your thoughts on blue control in general, blue as a mono-colored deck in Standard and your thoughts on this deck in particular.
UPDATE: Many of you have commented with your opinions on the deck as a completed, play-tested, pro deck build.  I guess I didn't make it clear that this was concieved as more of a concept deck than anything.  The reason I had a few two-ofs instead of the Pro-Standard 8x four-ofs was because I wanted to showcase more than 8 different blue cards that are viable in standard.  Thus, I took out a couple of Leylines and added a couple of Temple Bells and Mind Springs.  I suppose I could have just listed the 8 best blue cards in standard but as a concept deck, I wanted to give you options to stay fluid and relevant as cards come and go.
With this in mind, I did want to offer you a pro version of the deck.  I removed some of the periphery, circumstantial cards that I originally wanted to showcase as possibly viable in a modern bounce, counter, draw deck.  Take a look at the revised version and give me more feedback!  I appreciate the thoughtful insight some of you have given in the comments section of this article and I'd love to continue to work together to make this deck more palatable to the pro community.
[deck title=PRO-VERSION: Bounce, Counter and Draw (BCaD)]
[Land]
*22 Island
*2 Halimar Depths
*1 Reliquary Tower
[/Land]
[Creatures]
*4 Aether Adept
*3 Sphinx of Jwar Isle
*2 Lighthouse Chronologist
[/Creatures]
[Other Spells]
*4 Mana Leak
*4 Deprive
*2 Treasure Hunt
*2 Spreading Seas
*4 Jace, the Mind Sculptor
*3 Leyline of Anticipation
*1 Time Warp
*2 Jaces Ingenuity
*2 All is Dust
*2 Everflowing Chalice
[/Other Spells]
[Sideboard]
*2 Redirect
*2 Spreading Seas
*4 FlashFreeze
*1 Mind Control
*2 Jaces Ingenuity
*4 Cancel
[/Sideboard]
[/deck]
Price: $419.40
Price Minus 4x Jace, the Mind Sculptor: $92
Update 2: With help from the Gathering Magic community I've made a few changes to the deck.  I took out a couple of Treasure Hunts (I think the deck has enough draw, no?), a Leyline of Anticipation  and a Sphinx of Jwar Isle either of which are horrible two-ofs in hand!   I added the colorless sweep All is Dust- a bomb, reset or setup for a win condition. I also added Everflowing Chalice.  It's such a great card on its own but if it were used as an instant!?  I also added the price of the deck using CSI's Deck Builder Thingy for your reference.
Comments
comments