MTG Potpourri #12 – Repo Draft and the AANR
Joining you this week is your host Tom, formerly of Monday Night Magic for many years, as well as two esteemed cohosts in Adam Styborski (@the_stybs) and Conley Woods (@conley81). Our goal is to bring you some Magic news, some pro-level talk, random topics du jour, and a little entertainment.

Podcast: Download (Duration: 58:17 — 26.7MB)

Subscribe: Android | Email | RSS


Be sure to subscribe to the show via the RSS feed for MTG Potpourri or on iTunes.

This week, we go over:
Conley has abandoned us for Grand Prix Chicago, but Tom and Adam can't be kept down (or clothed)!
No beating around the proverbial bush—we get right into the Gathering Magic Magic 2015 preview [/card]Soul of New Phyrexia[/card]. Thank the gods; we finally get our colorless titan!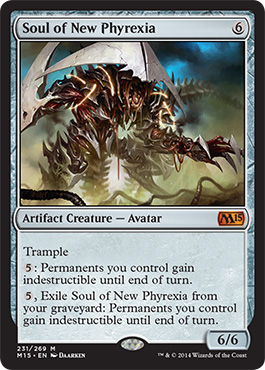 We also delve a bit into the new and drastically different look for MagicTheGathering.com and overall, despite the hiccups of switching over, seems to be a huge improvement.
Tom and Adam are a bit surprised about the current state of the Power 9 Vintage Masters prices, but they speculate on what will happen in the future, and Tom is still disappointed in the rarity and cost for Vintage players now on Magic Online.
Tom also shares the news that he discovered that one of Minnesota's biggest nudist resorts is near his rural clinic, and this snowballs into discussion of the American Association for Nude Recreation. Yup, it's a real thing.
Tom is also thrilled for some listener e-mails, including some great Magic swag photos.
Send in those e-mails—it truly makes my day (Tom).
Contact Us
---

Comments
comments