The Magic Studio #7: Jon Finkel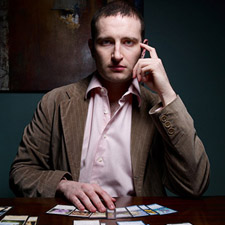 This is The Magic Studio with your host Robert Martin, the interview podcast with the best in Magic: The Gathering. I'd like to thank GatheringMagic.com—where you can find this show and some of the best articles in Magic—and CoolStuffInc.com. Our guest this week is Jon Finkel.
Audio clip: Adobe Flash Player (version 9 or above) is required to play this audio clip. Download the latest version here. You also need to have JavaScript enabled in your browser.
You can subscribe to the show via the RSS feed for The Magic Studio or on iTunes. You can also download this week's episode.
0:00 – 0:20 – Intro to the show
0:20 to 1:25 –You started playing competitively at age fourteen and made your first Pro Tour event in 1996 as a part Junior Super Series and finished ninth; how much did that moment change your Magic course?
1:25 – 2:40 – Thanks to being in NYC, you joined up with the OMS brothers, and according Daniel, there was Jon, someone who was very young and had his awkward moments being that age. How much did working with them help you?
2:40 – 5:33 – The OMS brothers have been a part of your life since then; Daniel said that you three are the greatest three-man team in Magic history. What are your thoughts on that?
5:33 – 7:06 – I would like to go back to Grand Prix: Rio De Janeiro 1998. In the finals, it was you versus Steve OMS. Considering the previous week he just won GP: Madrid, what was the match like for you?
7:06 – 8:04 – After being a part of the first Hall of Fame class, you made a comment that to this day rings in my head: "Steve OMS was named and was measured for ring; he should be in the next class." That didn't happen, and it took the Magic community a while to understand what his impact was on Magic before they finally got him in. What are your thoughts on that moment?
8:04 – 9:16 – Mark Rosewater made the ultimate comment in regards to your skill in Magic: "Finkel is the most naturally gifted player the game has ever seen. His accomplishments are rivaled by only one other man: Kai." This is almost a universal thought for most players in Magic. When you hear things like this from people like Mark, what does it mean to you?
9:16 – 10:40 – There seems to be mutual respect when it comes to you and Kai, and it seems you have a good relationship with him when it comes to Magic; what did you see when you saw Kai play that made him special?
10:40 – 13:30 – The other saying that I would like to hear your thoughts on is, "Jon doesn't lose on Day 2 of a Pro Tour." How much does the aura of what you can do affect others when they play you?
13:30 – 15:49 – Why did you retire from professional play?
15:49 – 20:55 – What made you come back?
20:55 – 21:48 – You are now a part of Team SCG Black for Pro Tour events. For you, what is the best part of being a part of it?
21:48 – 26:21 – Sam Black has designed some of best decks in Pro Tours with your team. Tell us more about Sam and why the Magic community may not appreciate what he does.
26:21 – 31:02 – We have seen throughout the history of Magic many players who do amazing things in Grand Prix events, but that success never translates in to success at Pro Tour events—why?
31:02 – To End – You have seen the evolution of Magic from a spell-based system to more of a creature-based system; was there a favorite time in Magic for you as a player?
Comments
comments