The Magic Studio #8: Marshall Sutcliffe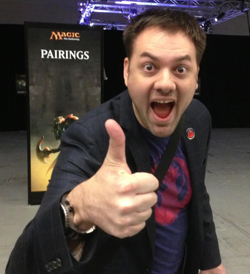 This is The Magic Studio with your host Robert Martin, the interview podcast with the best in Magic: The Gathering. I'd like to thank GatheringMagic.com—where you can find this show and some of the best articles in Magic—and CoolStuffInc.com. Our guest this week is Marshall Sutcliffe.
Audio clip: Adobe Flash Player (version 9 or above) is required to play this audio clip. Download the latest version here. You also need to have JavaScript enabled in your browser.
You can subscribe to the show via the RSS feed for The Magic Studio or on iTunes. You can also download this week's episode.
0:00 – 0:37 – Intro to the show
0:37 – 5:39 – How did you go from one time in the booth at Grand Prix: Austin to a commentary position with Wizards of the Coast?
5:39 – 10:30 – How much preparation is there for you in the booth for a Pro Tour?
10:30 – 12:02 – Let's talk about why having someone like Rich Hagon—who is prepared in the booth—is such a help for coverage.
12:02 – 14:33 – Why has the WotC coverage team expanded how they communicate during events? Is this something you started?
14:33 – 18:22 – How do you keep yourself energized for the entire Pro Tour during coverage?
18:22 – 22:42 – We discuss the Jon Finkel Draft-viewer observation from the host point of view and give a great answer to why it worked so well!
22:42 – 27:30 – On the topic of the Limited segments in Pro Tour events you host, what player demographic is that segment targeting?
27:30 – 32:07 – What is next for you with WotC?
32:07 – To End – How difficult of a decision was it for you to quit your job?
Comments
comments