The Magic Studio #3: Brad Nelson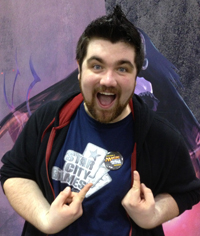 This is The Magic Studio, the interview podcast with the best in Magic: The Gathering. I'd like to thank GatheringMagic.com—where you can find this show and some of the best articles in Magic—and CoolStuffInc.com. Our guest this week is Brad Nelson.
Audio clip: Adobe Flash Player (version 9 or above) is required to play this audio clip. Download the latest version here. You also need to have JavaScript enabled in your browser.

You can subscribe to the show via the RSS feed for The Magic Studio or on iTunes. You can also download this week's episode.
0:00 – 0:15 – Intro
0:15 – 2:06 – How has the move from North Dakota to Roanoke changed you as a player and as a person?
2:06 – 3:07 – You work with Evan—will this lead to you one day doing The Magic Show?
3:07 – 4:11 –When you do set reviews, how hard is to do good content after five or more hours of card review?
4:11 – 4:57 – Do you go over cards you disagree on when do a review?
4:57 – 5:45 – Is any of your review edited out? And do you get the "dad look" from Evan because of it?
5:45 – 6:45 – You do Above the Curve. Who thought of the show?
6:45 – 7:39 - When you and Gerry look at a deck on the show, you both can find different angles on it, which makes for great debate.
7:39 – 8:45 – You talked about your schedule being limited due to your desire to play Standard; have you planned out your 2013 schedule?
8:45 – 10:43 – Do you feel this kind of approach to Magic will be beneficial in the long run?
10:43 – 11:44 – How important is it that you, as employee of StarCityGames, make many appearances at events on the east coast?
11:44 – 12:59 – How fun is it for you to do coverage?
12:59 – 14:17 – Why did you miss the last SCG Invitational?
14:17 –15:33 – You seem to be having more fun with Magic. (This topic was brought up because he wasn't having as much fun with Magic when we last interviewed.)
15:33 – 17:17 – Does having an outgoing personality at events interfere with what you do at events?
17:17 – 19:30 – Is there anything more you can do in the community?
19:30 –End – What are you goals for Magic this year?

Comments
comments