The Magic Studio #9: Reuben Bresler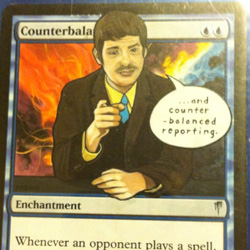 This is The Magic Studio with your host Robert Martin, the interview podcast with the best in Magic: The Gathering. I'd like to thank GatheringMagic.com—where you can find this show and some of the best articles in Magic—and CoolStuffInc.com. Our guest this week is Reuben Bresler.
Audio clip: Adobe Flash Player (version 9 or above) is required to play this audio clip. Download the latest version here. You also need to have JavaScript enabled in your browser.
You can subscribe to the show via the RSS feed for The Magic Studio or on iTunes. You can also download this week's episode.
0:00 – 0:30 – Intro to the show and guest
0:37 to 3:30 – What drew you to StarCityGames?
3:30 – 4:47 – Have you received any negative feedback from the people you have fun with on the show?
4:47 – 6:58 – How did you become involved with the In Contention podcast?
6:58 – 8:30 – How much is the podcast influenced by the amount coverage you do for StarCityGames?
8:30 – 10:35 – How difficult is it to do written game reports for coverage?
10:35 – 12:05 – Do you have a memorable live interview you have done for SCGLive?
12:05 – 14:05 – What techniques do you use to make people feel more comfortable when you are doing interviews with them?
14:05 –16:40 – You do a live Newsening at SCG Invitationals; how hard is it to do that?
16:40 –18:50 – You have been on all sides of SCGLive products; what do you think can improve it?
18:50 – 20:47 – You have a second career in comedy; what would you like to do with that career?
20:47 – 23:10 – Being so young and living your dream, what else would like to do?
23:10 – 25:21 – How does having someone special in your life change the way you handle your time commitments for the job?
25:21 –26:48 – Since she has come into your life, your presence (in my opinion) on camera has improved. Did you notice any change to yourself?
26:48 – To End – What advice can you give someone who wants to break into the Magic community via a podcast or commentary—or even working for SCG?
Comments
comments