Mar

07
by Abe Sargent

Abe is back with a Commander deck to make your (Low)blood boil!
Tags: #MTGOGW, Abe Sargent, Brew, Brewing, Casual, Commander, Fumiko, Fumiko the Lowblood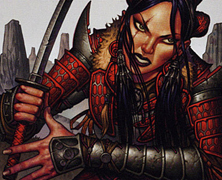 Dec

24
by Jules Robins

The Lowblood takes the high road, and pays the price in spades.
Tags: Commander, deck list, EDH, Elder Dragon Highlander, Fumiko the Lowblood, Jules Robins, Recap
May

01
by CMDR Decks

Ready to rumble in the red zone? Check out this sweet Commander deck tech for Fumiko the Lowblood!
Tags: CMDR Decks, Commander, Deck Lists, Deck Tech, EDH, Fumiko the Lowblood, Uriah Oxford, Video