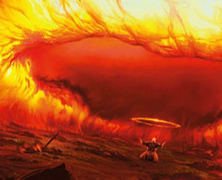 Jun

20

Think you know your cards? Try this awesome Mythic challenge from Nathan!
Tags: God Emperor, Magic the Puzzling, Mythic Rare, Natalie Weizenbaum, Puzzle
News
Fri. Jul. 31

- Froehlich, Yasooka, and Edel are the newest members of the Hall of Fame!

Wed. Jul. 29

- Take on the role of the defiant Zendikari or the alien Eldrazi in the next Duel Deck.

Tue. Jul. 28

- So long seeded boosters!

Sun. Jul. 26

- Nakamura wins as #PascalvMaynard comes to its end!

Thu. Jul. 23

- October brings a deadly treat to Friday Night Magic.