Dec

12
by Jason Alt

Jason has three Pros to follow, but not for the reasons you think.
Tags: Community, Jason Alt, Matt Sperling, Paul Rietzl, Paulo Vitor Damo da Rosa, Twitter, Who to Follow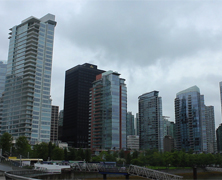 Jun

29

Inside the Deck visits Grand Prix Vancouver, taking a look at Avacyn Restored Limited! Interviewees: Paul Rietzl Brian Ziemba Francis Toussaint Melissa DeTora Brandon Neslon
Tags: Avacyn Restored, Brandon Neslon, Brian Ziemba, Draft, Francis Toussaint, Grand Prix Vancouver, Inside the Deck, Interview, Limited, Melissa DeTora, Paul Rietzl, Rich Castle, Sealed, Video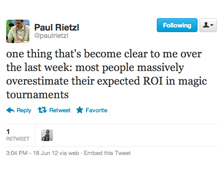 Jun

22
by Jon Corpora

Twitter and the Magic community have a storied history. Captured in it's entirety is the expected value, "EV", discussion that happened June 18, 2012. These are some of the best players in Magic. You have been warned.
Tags: Brian Braun-Duin, Eric Froehlich, EV, Evan Erwin, Expected Value, Geordie Tait, Ian Shore, Jon Corpora, Luis Scott-Vargas, Matt Sperling, Owen Turtenwald, Patrick Chapin, Paul Rietzl, Paulo Vitor Damo da Rosa, Recap, Sam Black, Tom Martell, Twitter