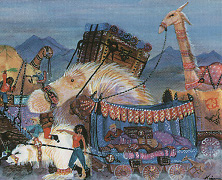 May

10
by Ryan Bushard
News
Today

- Reanimator and Mentor Control rule the day in Europe.

Today

- Wang Yichen gets Delirious in Providence

Sun. Oct. 23

- Matsumoto piloted Mardu Vehciles to a trophy in his second Grand Prix Top 8

Thu. Oct. 20

- Why did it have to be snakes?

Wed. Oct. 19

- Everything old is new again in Standard.