Bill in Congress Would Make Streaming MTGO a Felony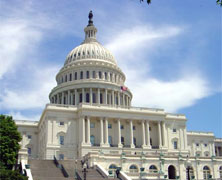 Bill S. 978 - A bill to amend the criminal penalty provision for criminal infringement of a copyright, and for other purposes. This bill, sponsored by Amy Klobuchar, Dem. of Minnesota.
Makes unauthorized web streaming of copyrighted content a felony with a possible penalty of up to 5 years in prison. Illegal streaming of copyrighted content is defined in the bill as an offense that "consists of 10 or more public performances by electronic means, during any 180-day period, of 1 or more copyrighted works" and has a total economic value, either to the copyright holder or the infringer, of at least $2,500.
The implications of this bill are that it would become illegal to stream your games of Magic Online, for profit or for friends. This also includes the streaming done by Pros for various Magic websites, which would become a felony with up to 5 years in prison. Below we've embedded the "Bill Status Widget" courtesy of OpenCongress.org, this widget will share with you the bill's current status.
Comments
comments