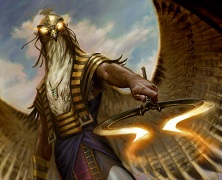 Apr

04

Reprints can wreak havoc on your collection's value, but Jon has some tips to minimize the impact!
News
Thu. May. 10

- Magic up for Best Art Director and Gaming Related Illustration in Chesley Awards!

Tue. May. 8

- Magic Artists win prestigious Sprectrum 25 Awards!

Tue. Mar. 27

- GenCon announces change to Featured Artist Lineup.

Mon. Feb. 19

- Grzegorz Kowalski takes down GP Lyon.

Wed. Feb. 14

- Battlebond, Commander Decks, and an official Magic App!