First Expansion for D12 Announced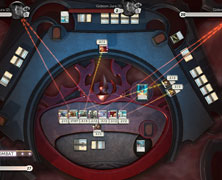 Three new decks, play as Archenemy and more!
After a few months out, today Wizards of the Coast announced the first expansion for Duels of the Planeswalkers 2012. The expansion will officially unveil Innistrad cards, allow you to now play as the Archenemy in the game, as well as add more campaigns and opponents to face. See the full list of new features and functionality below.
Three new playable decks: Liliana Vess's "Grave Whispers" deck, Ajani Goldmane's "Auramancer" deck, and Ral Zarek's "Cloudburst" deck
Six exclusive sneak-preview cards from the upcoming Innistrad expansion
Players can become the Archenemy in single-player and online multiplayer formats
Six new single-player campaign levels and eleven Archenemy single-player campaign levels
Four Archenemy challenges
Four additional card unlocks for all thirteen Duels 2012 decks
New achievements on Xbox, Steam, and PlayStation
New loading screens featuring art and text exclusive to the Duels 2012 Expansion
The six cards are most likely the ones previously spoiled unofficially by posters on MTGSalvation. And this is the first confirmation of Ral Zarek entering the fray after he was discovered hidden within the game, though not included in its original release.
This expansion is scheduled to released on Sept. 14th, but for those attending PAX you'll be able to see the game at the Wizards booth before the game releases.
Pretty Pictures
Comments
comments