Who to Follow – Organized Play, Part 1
Let's face it: Not all of social media is about being entertained. Sometimes, you need to know actual information, and it's generally a good idea to know where you can find it ahead of time. Ideally, you want to ask someone who is more knowledgeable or organized than you are. Do you know immediately how to contact someone like that if you need to? If so, great, but if not, I may be able to help.
Today, I am profiling two of the hardest-working women in the game. They are both fonts of useful information about events both past and future, and to not follow them is to not do it correctly, in my view.
Helene Bergeot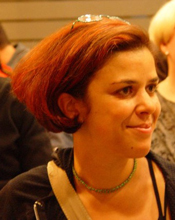 Where You Know Her From: Giving you great news, most of the time
Current Title: Director of Organized Play and Trade Marketing Wizards of the Coast
Social Media:
Twitter
Personal Website
DailyMTG Archives
To a greater extent than normal, Twitter is the big one, here. Helene uses Twitter to make announcements about changes in Organized Play, talk about rulings, answer insightful questions about tournaments and events, and answer dumb questions about tournaments and events.
For the love of all that you hold dear, be nice to Helene Bergeot! She has what amounts to a very difficult and probably frequently taxing job, and she's very good at it. Typically, when people are tweeting her a question, it's because something isn't going the way they think it should, and they aren't happy. Try to remind yourself it's not her fault your tournament organizer put the wrong multiplier on the event—or whatever—and be civil. That said, Is there anything she can't make happen?
Pro Tour Qualifier on another continent doesn't have prize support?
@prosekdan We'll look into this asap however I'm surprised the TO was not more proactive?

— Helene Bergeot (@HeleneBergeot) March 4, 2013
She's on it!
Waiting on checks from a Grand Prix?
@jmgottlieb We expect the checks from GP Atlantic City to be mailed within the next couple of weeks

— Helene Bergeot (@HeleneBergeot) February 27, 2013
She's on it!
Tournament Organizer not doing his or her job?
She's on it.
If you have questions or concerns about organized play, an event that just took place, or an event that's coming up, Helene Bergeot can answer your question or find out the answer. She checks Twitter often and works very hard for this community to make sure we're happy about each and every organized event—despite having to deal with every event on the planet earth. She's very good at her job, and she's very accessible. I can't recommend following her on Twitter enough. Even if you don't have a question, seeing her responses to others' questions may solve problems you didn't even know you had.
Megan Holland a.k.a. MtGMom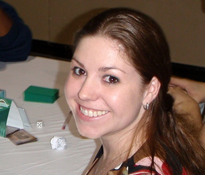 Where You Know Her From: This Amazing Website
Current Title: MtGMom . . . I guess
Social Media:
The website again. It's that important.
Twitter
Personal Twitter
Facebook fan site
Monday Night Magic appearance
You've probably seen the logo for MtGMom.com on a sticker on a binder or maybe you've even been to the website. If you haven't, oh my God, go to the website. Is it entirely necessary to know about a PTQ in New Jersey if you're trying to see if there is a GP in the Northwest coming up? Maybe not, but I will never, ever eschew more information in favor of less. If you want to know what there is to do on any given weekend in the near future, all the way down to TCGplayer Bronze events, this website is a must-read. Simplistic in its design, it amounts basically to a giant calendar with drop-down menus that list events and their locations. Clicking on an event will have you following a hyperlink to more information about the event.
Having discovered this website a few years ago, I was inclined to type something like, "I don't know how I got by without it," until I realized . . . I didn't. I missed an awful lot of events that I potentially would have wanted to go to because I just didn't Google for them properly or know where to look. This website is amazing, and Megan Holland should be in some manner of Magic Community Hall of Fame for her contribution to the game. MagicTheGathering.com is perhaps the second-best place to look for events and information about them. Does that sound hyperbolic? Well, it's not; it's my honest opinion.
If you have time, listen to her interview on Monday Night Magic (linked above). Monday Night Magic is a great podcast, and this interview is a good one. Megan is an invaluable member of our community, she has made an incredible website for us, and the least we could do is follow her and her site on Twitter, like it on Facebook, and put one of those attractive pink stickers on our trade binders. I can't speak for you, but I owe her site a lot.
---
I really feel that these are two snap-follows that will do you a lot of good. Knowing how to get the most out of your weekend will make you a better player just as surely as anything else, and these two can do so much for you in that regard that I feel a little silly not having profiled them earlier.
Keep the feedback coming; I love to read the e-mails from people who have felt that they're really optimizing their social-media experiences. If you have a suggestion for someone you feel is excellent value and you wish more people knew about, let me know, and I'll try to have that person slotted into a future installment.
One more thing: On a personal level, I'm very happy that the podcast I co-host, Brainstorm Brewery, has joined the GatheringMagic family. Look for a new episode each Friday right here on GatheringMagic.com.
Until next week!
Comments
comments